Congratulations, Kim Allen!
Kim's selfie features her Harley Davidson, Bittersweet, which she plans to ride across every U.S. state when she retires. Here's her story: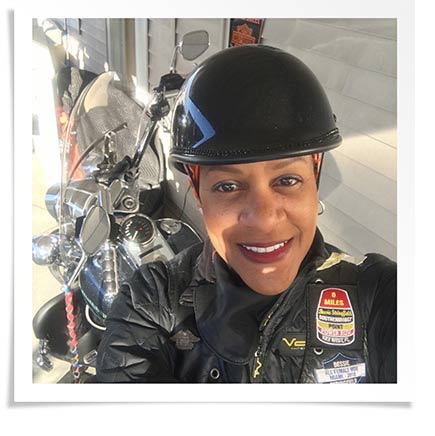 "Attached is a selfie of me and BitterSweet…she's behind me! I plan to travel, travel, work a little, then travel, travel, and travel. The first 60 days of my retirement I plan to continue my adventure of riding my 2016 Harley Davidson Road King through every state in America, stopping at every monumental place (and even some not-so-monumental places).
Last year was my very first cross-country trip from San Diego to Key West, Florida (hence, the patch) – AWWWESOME!!!!! So far, BitterSweet and I have covered 13 of the 50 states. My Bucket List also includes riding in two other countries and on two other continents!
I'm keeping the shiny side up and the rubber side down on the Road to Retirement!"
We hope Kim inspired you to plan a retirement adventure of your own. Check out all the submissions for even more inspiration – thanks to everyone who entered!
NRW-4757CA-SG.2